Welcome
Introduction
Welcome to my Web site about using renewable energy and how I built an off-the-grid system for my little cabin in Mid-Michigan. Throughout this site, I'll expain in basic terms some of the equipment required to set up an off-the-grid system and I'll talk about what equipment I choose to use and why.
Background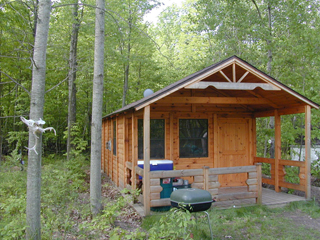 About 15 years ago I purchased 40 acres in Mid-Michigan for camping and hunting activities. The property is down a half mile easement and where we wanted to put the cabin was still further out in the middle of the property. It would have been too expensive to have grid power brought to my building site. It was then that I thought of powering the cabin through renewable resources with a backup gas generator for emergency use.
In designing my system, I had to meet the following criteria.
Supply 110Vac power to the Cabin.
Supply 220Vac power to the well pump.
Have enough reserve power to cover two to three days of use.
Charge the batteries using PhotoVoltaic panels.
Charge the batteries using wind power.
Browse through this site to learn about Photovoltaics, Wind Turbines, Batteries, and Inverter and Charging Systems.
You don't need anything elaborate when creating a solar/wind renewable system. I started my system by installing all of the components into a plastic shed as shown below.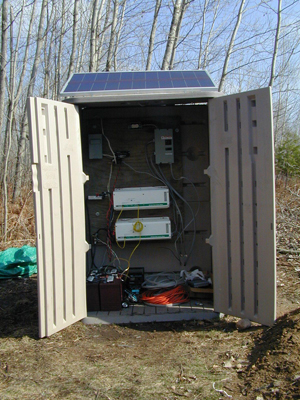 For questions about this site please contact the
WEBMaster